According to the National Association of Home Builders, there is a wave of price increases that are skyrocketing the cost of lumber across the country.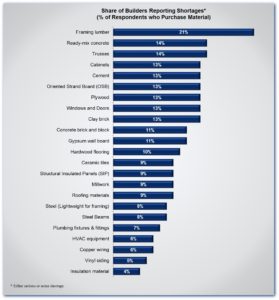 In addition the NAHB is reporting issues with lumber supply as well.
The NAHB blog cited that in its recent NAHB survey, results found that "more than 1 in 5 single-family builders are experiencing a shortage of framing lumber."
Even though labor shortages continue to impact builders' ability to take on new work, the availability of lumber is rising on the horizon of their concerns, creating pricing instability. This will create future risks for smaller builders to build spec homes, leading them to downsize.
Still, there is a significant lumber shortfall. According to the numbers crunched by the NAHB in 2016, the U.S. consumed more than 47 billion board feet (bbf), while it produced slightly more than 32 bbf.  Consequently, the U.S. relies on foreign sources of lumber, and Canada, to make up for this domestic shortfall.
Fast Facts
Majority of builders have access to sufficient lumber supplies
Lumber prices that had continued to rise are coming back in now
The most widespread shortages reported in 2017 are for ready-mix concrete and trusses
The NAHB reported on its site, "The rising share of builders reporting shortages of framing lumber is consistent with recent increases in prices for softwood lumber.  It is virtually certain that an underlying factor contributing to the shortages and price increases is the ongoing softwood lumber trade dispute between the U.S. and Canada, including the duties on lumber imported from Canada levied by the Department of Commerce in 2017. NAHB analyzed the economic impact of these duties, the latest of which was announced on June 26."
# # #