Just the Facts: Homeowners with a mortgage spend more money per month than renters on housing. That means that renters are saving money every month, statistically.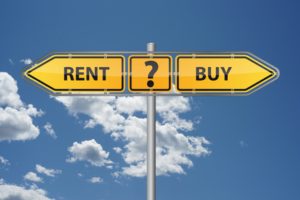 These figures are based upon data from the U.S. Census Bureau's 2013-2017 American Community Survey five-year estimates, which tracks median housing costs across the country.
Unfortunately, for the New Jersey homeowner, the gap between the median monthly cost for renters and those with a mortgage is significant – more than $1,149. That's $45 more than the median cost to rent in New York, where the median rent cost is $1,194.
The reason for this is that the costs for homeownership includes related costs such as maintenance, property taxes, repairs, insurance, and the monthly mortgage payments.
The monthly costs of buying and owning a home are up 14% year-over-year, which is more than the annual average rent increase nationally, which are up just 4 percent according to the National Association of Realtors.
At this point, it looks like most renters are saving money.
New Jersey
Median monthly cost for homeowners with a mortgage: $2,398
Median rent cost: $1,249
Difference between owning and renting: $1,149
Connecticut
Median monthly cost for homeowners with a mortgage: $2,065
Median rent cost: $1,123
Difference between owning and renting: $942
New York
Median monthly cost for homeowners with a mortgage: $2,064
Median rent cost: $1,194
Difference between owning and renting: $870
Pennsylvania
Median monthly cost for homeowners with a mortgage: $1,446
Median rent cost: $885
Difference between owning and renting: $561
New Hampshire
Median monthly cost for homeowners with a mortgage: $1,878
Median rent cost: $1,052
Difference between owning and renting: $826
Vermont
Median monthly cost for homeowners with a mortgage: $1,563
Median rent cost: $945
Difference between owning and renting: $618