Black Knight Financial recently reported that though the recovery from the 2008 real estate crash has made significant strides forward.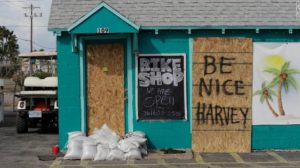 Unfortunately, this progress is most likely going to stall as it is expecting up to 300,000 mortgages to become delinquent as a result of Hurricane Harvey.
The FEMA-declared disaster areas saw delinquencies jump 16%, from 5.37% before the storm, which made landfall on Aug. 25, to 6.22% by the end of August.
More than 6,700 new 30-day delinquencies can be attributed to Harvey, while an additional 1,000 borrowers who were already 30-days past due missed an additional mortgage payment in August as a result of the storm.
Notwithstanding, Black Knight's July mortgage performance data was overall very positive.
» The national delinquency rate rose by 2.8% in July, on par with expected seasonal activity, though 90-day delinquencies stayed level from one month ago
» July's 53,300 foreclosure starts marked the second lowest (next to April 2017) monthly volume since the start of 2005
» At just 21,000, first time foreclosure starts were the lowest since the turn of the century
» Following monthly gains in May and June, prepayment activity fell by nearly 10% in July and 20% below last year
» The monthly declines in prepayment activity were seen in a relatively uniform fashion across investor, credit and vintage bands
» Foreclosure inventory fell by 12,000 in July, bringing the total below 400,000 for the first time since February 2007
» Active foreclosure inventory has declined by 28% (more than 150,000) over the past 12 months