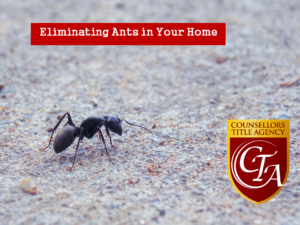 Going on the Offense
Sprinkle the earth around your house with diatomaceous earth. This spread is comprised of organisms from among these aquatic creatures called diatoms. What makes this spread so deadly is that when ants or any insects cross it, it ends up killing them as a result of dehydration. It kills insects, but is harmless to people and pets. 
Become a Clean Freak
Be assiduous whenever you have a meal. Clean up afterwards and be careful not to leave any crumbs or juices behind. I like to use some form of bleach on my surfaces. Sweep, clean, mop, vacuum, and disinfect, 
Other Hacks in the War Against Ants 
Don't forget household vinegar and salt water sprayed over the areas that you have seen ants. 
More Tips
Create a combination of essential oils. An essential oil is a natural oil typically obtained by distillation and having the characteristic fragrance of the plant or other source from which it is extracted. Such extracts are known to be useful in the war against black ants. Try the combination of a half a teaspoon of cinnamon essential oil with a cup of water. Then you can apply it to areas where you have seen ants entering or activity in general. 
Peppermint oil also works in keeping the ants away. You can apply the oil to the places that ants come in, like doorways and windowsills.
If you have any questions about this information or title insurance, please contact Ralph Aponte: 732.914.1400.
Counsellors Title Agency, www.counsellorstitle.net, founded in 1996, is one of New Jersey's most respected title agencies, serving all 21 New Jersey counties with title insurance, clearing title, escrow, tidelands searches, and closing and settlement services for commercial or industrial properties, waterfront properties and marinas, condominiums, townhouses or residential single family homes. Counsellors Title also features its own Attorney Settlement Assistance Program™ [ASAP], which is an individual resource customized to fit the needs specifically of real estate attorneys, including, Documentation, Preparation, Disbursement of Funds, Attendance at Closing, HUD Preparation or Post-Closing Matters.