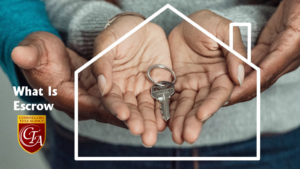 To help minimize risks during real estate transactions, the escrow/settlement process was developed to protect the buyer, seller and lender.
An escrow account is a temporary holding account that is managed by the escrow holders who is a neutral third party commissioned to hold funds and related documents while the buyers and sellers negotiate and navigate the final stages of their transaction. The escrow manager receives and disburses money or property for the primary transacting parties, with the disbursement dependent on conditions agreed to by the transacting parties.
The word escrow comes from the French word meaning scroll. As it relates to the real estate transaction, the function of escrow is to ensure the conditions of the real estate transaction have been met before the property and/or money change hands.
In the case of a real estate transaction, the escrow process begins when a party to a real estate transaction 'opens the escrow' after a written sale agreement is reached. Upon opening, the escrow holder should be provided with the terms of the sale and the information necessary to carry out tasks.
When the real estate transaction is in escrow, the escrow officer works with the agents, buyers and sellers to make sure the right steps are taken at the right time, which include:
■ Preparing written escrow instructions
■ Requesting a preliminary report or commitment
■ Coordinating communications among all parties in the transaction
■ Requesting a statement of identity (information) from the buyer or seller as needed
■ Ordering demands or beneficiary statements
■ Receiving bills from home warranty companies and other inspection agents, which include pest, roof, home and others
■ The preparing or securing the deed or other recordable documents, including the title search
■ A review of compliances with lender's requirements
■ Prorating taxes, interest, insurance and rents
■ Receipt of purchase funds necessary for the closing
■ Coordinating recording of deeds and all necessary documents
■ The timely disbursement of funds as authorized, including charges for title insurance, recording fees, real estate commissions and loan payoffs
■ Preparing final statements for the parties, which account for the disposition of all funds deposited in escrow
■ Closing escrow when all the instructions of the buyer, seller and lender have been carried out
Upon the completion of all instructions in escrow to the satisfaction of each party, the escrow is ready to be closed. Upon the closing, the title to the property is transferred to the buyer, the sales proceeds are paid over to the seller, necessary documents are recorded and title insurance is issued.