According to some surveys, 42% of individuals today are working from home.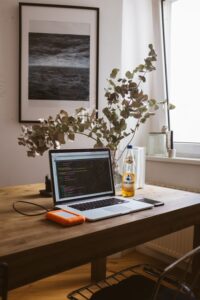 A great deal of anticipation and expectation is surrounding the future of the new domestic economy as it begins to reopen in the post-pandemic era.
Some experts are anticipating that up to 25% of workers will be looking to work entirely from home.
Productivity, in some cases, may have taken a temporary hit, but approximately 60% of those individuals working from home state that they are either as productive or more productive working remotely.
According to a CNBC research survey, 42% of those responding to the survey indicate that they are working from home as compared to just 9% pre-pandemic.
What will take place following the pandemic with respect to the number of people working remotely versus those who work in a commercial office space may change dramatically. This could and most likely will translate into millions of dollars of losses for those commercial real estate developers and property owners.
According to the research survey, those individuals earning from $50,000 to beyond $100,000 are more likely to work from home.
If you have any questions about this information or title insurance, please contact Ralph Aponte: 732.914.1400.
Counsellors Title Agency, www.counsellorstitle.net, founded in 1996, is one of New Jersey's most respected title agencies, serving all 21 New Jersey counties with title insurance, clearing title, escrow, tidelands searches, and closing and settlement services for commercial or industrial properties, waterfront properties and marinas, condominiums, townhouses or residential single family homes. Counsellors Title also features its own Attorney Settlement Assistance Program™ [ASAP], which is an individual resource customized to fit the needs specifically of real estate attorneys, including, Documentation, Preparation, Disbursement of Funds, Attendance at Closing, HUD Preparation or Post-Closing Matters.