It's not just inventory shortages, high mortgage rates, and slow construction rates that are creating roadblocks for Millennials looking to get into the housing market; it all comes down to money. Cash, greenbacks, liquidity, down payment.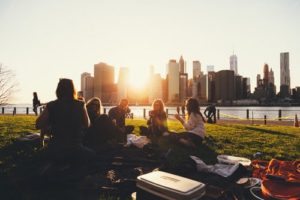 HotPads just came out with a press release indicating that Millennials are having a very difficult time coming up with their down payment.
Even CNBC is reporting that:
The homeownership rate among Millennials ages 25 to 34 is around 8 percentage points lower than Gen Xers and baby boomers was in the same age group.

Student loans are one of the factors at play in deciding to put off settling down.

Delayed marriage has one of the biggest impacts on their low homeownership rate. Marriage increases one's likelihood of owning a home by 18 percentage points, the researchers found.
Right now, according to the US Census, a typical U.S. renter spends 34% of their income on housing. This is the highest amount since the US Census has been keeping records.
In addition, rising rents and rising home prices are forcing the amount of time it takes to save a down payment longer than it has been in many years. The typical U.S. renter spends 6 years putting together a 20% down payment.
With the median home value of $216,000, that would take $43,000 in order to cover a 20% down payment. Today in New Jersey, the average home costs over $250,000, which translates into a $50,000 down payment.
Today, Millennials are dealing not only with high prices, but also they are dealing with their own student loans. Student debt is becoming a major factor in terms of delaying the purchase of the first home.
According to the Zillow report, about 29% of first-time buyers put down between 3 and 9% on the home purchases in 2017.
Over the last several years, home values have risen between 5.5% and 8% and are forecasted to jump another 6.5% in 2019. This in no way gives first-time buyers a chance to gain some momentum when garnering their first down payment. Wages and salaries have not kept pace with the appreciation of average home sale prices.
Ultimately, Millennials will be forced to put less down and pay a higher monthly mortgage payment in order the cross to threshold of home ownership.
If you have any questions about this information or title insurance, please contact Ralph Aponte: 732.914.1400.
Counsellors Title Agency, www.counsellorstitle.net, founded in 1996, is one of New Jersey's most respected title agencies, serving all 21 New Jersey counties with title insurance, clearing title, escrow, tidelands searches, and closing and settlement services for commercial or industrial properties, waterfront properties and marinas, condominiums, townhouses or residential single family homes. Counsellors Title also features its own Attorney Settlement Assistance Program™ [ASAP], which is an individual resource customized to fit the needs specifically of real estate attorneys, including, Documentation, Preparation, Disbursement of Funds, Attendance at Closing, HUD Preparation or Post-Closing Matters.