The NAHB [National Association of Home Builders] put out a press release stating that "Sentiment levels have held at a solid range in the low- to mid-60s for the past five months."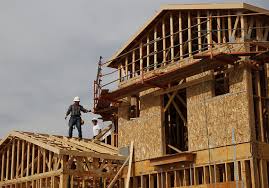 Current Demand
Current demand for single-family homes continues to remain strong, while builders report that certain development and construction costs are rising.
In one respect, the higher costs for skilled labor, the increased prices for materials and the on-going shortage of buildable lots is being offset by lower mortgage rates and an easing of buyer demand, especially in the luxury price range.
2019 Outlook
NAHB Chief Economist Robert Dietz stated, "And while new home sales picked up in March and April, builders continue to grapple with excessive regulations, a shortage of lots and lack of skilled labor that are hurting affordability and depressing supply."
The NAHB Housing Market Index [HMI] gauges builder perceptions of current single-family home sales and sales expectations for the next six months with three designations: "good," "fair" or "poor." The index/survey queries builders to rate traffic of prospective buyers as "high to very high," "average" or "low to very low." Scores for each component are used in the calculation of a seasonally adjusted index where any number over 50 indicates that more builders view conditions as good than poor.
Presently, the three-month moving averages for regional HMI scores indicates:
■ the Northeast with a three-point gain to 60
■ the Midwest increased by three points to 57
■ the West remained at a healthy 71
■ while the South fell one point to 67
If you have any questions about this information or title insurance, please contact Ralph Aponte: 732.914.1400.
Counsellors Title Agency, www.counsellorstitle.net, founded in 1996, is one of New Jersey's most respected title agencies, serving all 21 New Jersey counties with title insurance, clearing title, escrow, tidelands searches, and closing and settlement services for commercial or industrial properties, waterfront properties and marinas, condominiums, townhouses or residential single family homes. Counsellors Title also features its own Attorney Settlement Assistance Program™ [ASAP], which is an individual resource customized to fit the needs specifically of real estate attorneys, including, Documentation, Preparation, Disbursement of Funds, Attendance at Closing, HUD Preparation or Post-Closing Matters.
LET'S CONNECT ONLINE!