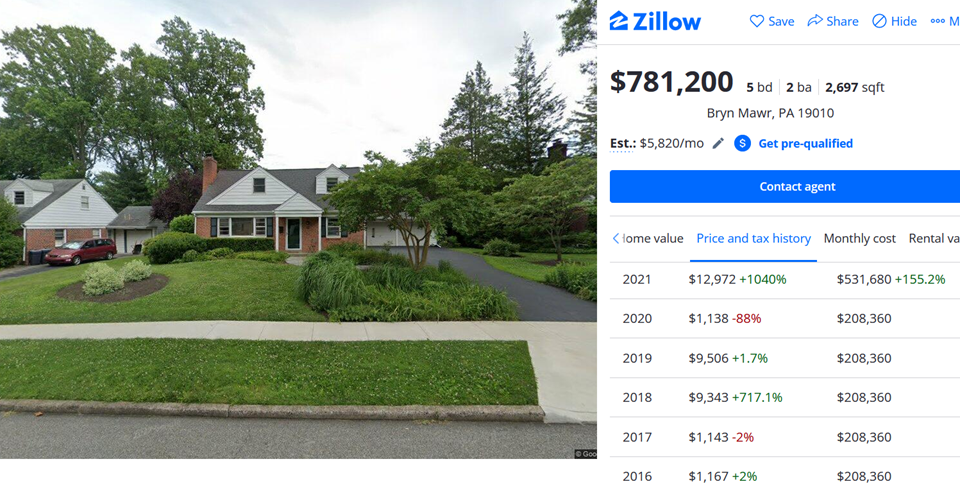 PA and SC Catching Up to NJ: Higher Taxes in Pennsylvania and South Carolina
By: Anthony DiMaio
Governments have big appetites, especially when it comes to real estate taxes, as we are finding out. I recently randomly reviewed the property taxes for a home located in Bryn Mawr, Pennsylvania. , which is typically not known for being a highly-taxed state. But some things are just turning around and governments with big budget deficits are jumping on the property tax bandwagon.
Before the pandemic bull market, this home was value was studied along at a little over $200,000. But that seems to have all changed. Something happened even before the pandemic in 2018, where it's taxes went from $1,143 a year to $9,343 a year, and increase of $717%.
And then the pandemic happened and the value of the house was put at nearly $532,000. That brought the taxes to nearly $13,000 a year. So the sleepy little Pennsylvania upscale neighborhood woke up and now that homeowner is paying $1,000 a month just in property taxes. Gulp!
And who knows what they're going to be paying in 2023 where the Zillow estimate for that home is $781,000.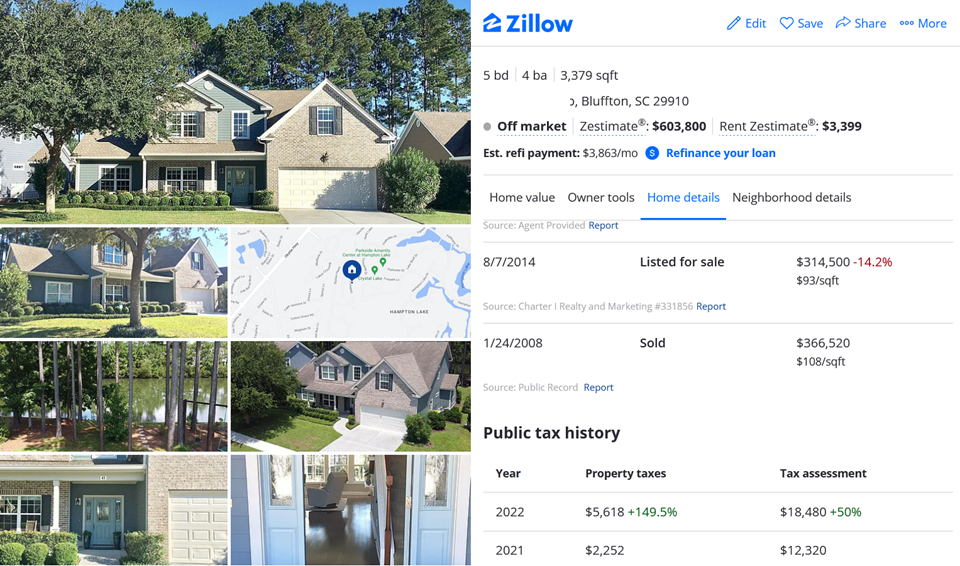 And with the big exodus out of the northeast, other states are now beginning to implement higher property taxes. Take for instance Bluffton, South Carolina. Here the taxes went from $2,200 a year to $5,600 a year and that was just in 2022. And the property values in South Carolina in the last 9 years have basically doubled. This one Bluffton property went from a sale price of 386,000 to a value of nearly $604,000 based on Zillow. So no matter what state you move to, those states are catching up to the revenue opportunities that they have to raise property taxes, raising the cost of living to those real estate "migrants."
f you have any questions about this information or title insurance, please contact Ralph Aponte: 732.914.1400.
Counsellors Title Agency, www.counsellorstitle.net, founded in 1996, is one of New Jersey's most respected title agencies, serving all 21 New Jersey counties with title insurance, clearing title, escrow, tidelands searches, and closing and settlement services for commercial or industrial properties, waterfront properties and marinas, condominiums, townhouses or residential single-family homes. Counsellors Title also features its own Attorney Settlement Assistance Program™ [ASAP], which is an individual resource customized to fit the needs specifically of real estate attorneys, including, Documentation, Preparation, Disbursement of Funds, Attendance at Closing, HUD Preparation or Post-Closing Matters.
LET'S CONNECT ONLINE!
Connect with Ralph on LinkedIn: https://www.linkedin.com/in/ralphaponte/