The Information Age Learning Center is an educational non-profit organization located on the New Jersey Shore in Wall Township. Since its beginning, InfoAge has evolved into a consortium of science and history museums and exhibits which serve as the focal point for the preservation and interpretation of New Jersey's rich communications, computer, and electronic technology and history. It is a place where children and families are educated in the technologies we use today, many of which were developed at Camp Evans.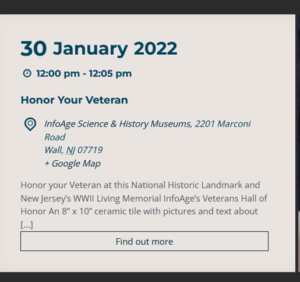 The MISSION of the Information Age Science and History Museum and Learning Center (InfoAge) is to preserve, educate, and honor scientific innovation to inspire new generations of thinkers, dreamers, and visionaries.
The campus is different than other science centers. We are the stewards of 16 buildings on a historic campus which opened in the early 1900s as a Marconi wireless telegraph station, served as a Navy/RCA communications laboratory during World War I, and was known as the Camp Evans Signal Corps Research and Development laboratory from World War II until 1997. These events and others earned us designations by the U.S. Department of the Interior on the National Register of Historic Places and prestigious status as a National Historic Landmark.
This museum and its other science centers make for a great day trip with the kids. 
If you have any questions about this information or title insurance, please contact Ralph Aponte: 732.914.1400.
Counsellors Title Agency, www.counsellorstitle.net, founded in 1996, is one of New Jersey's most respected title agencies, serving all 21 New Jersey counties with title insurance, clearing title, escrow, tidelands searches, and closing and settlement services for commercial or industrial properties, waterfront properties and marinas, condominiums, townhouses or residential single family homes. Counsellors Title also features its own Attorney Settlement Assistance Program™ [ASAP], which is an individual resource customized to fit the needs specifically of real estate attorneys, including, Documentation, Preparation, Disbursement of Funds, Attendance at Closing, HUD Preparation or Post-Closing Matters.