Pandemic Continues to Take Its Toll on Retail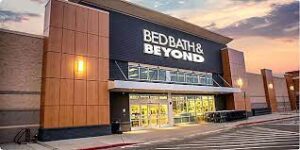 The impact of this viral pandemic continues to disrupt many businesses, some of which have been here for decades. One of which is Bed Bath & Beyond, which announced that it is closing 37 locations throughout the United States.
A good chunk of these stores are located in New York state, a total of 7, in Auburn, Canandaigua, Glenmont, Niagara Falls, Plainview, Port Chester and Spring Valley.
But there are probably other factors at affecting these closures, one of which is the the great resignation, making it difficult for these stores to find the necessary employees.
Another factor is the great migration. According to some reports, over 300,000 people have left the state of New York over the last year, while Florida is one of the big recipients of this great migration.
Florida and New Jersey will only be closing one Bed Bath & Beyond store. Much of the migration out of New York City went into regions such as Texas and Florida but also into New Jersey, where populations are less dense, and education is considered good.
According to the company, this phase of store closures is part of a total of 200 stores that it expects to close as announced in 2020. According to its SEC filing for the third quarter, the company said it had closed approximately 170 locations so far and expects to reach its goal of 200 by the end of 2022.
The company's revenues have increased by approximately 32% year-over-year and now digital sales comprised 15% of its total revenue, with 41% of its online sales fulfilled by its stores. These numbers point to a true value of retail outlets as distribution centers.
If you have any questions about this information or title insurance, please contact Ralph Aponte: 732.914.1400.
Counsellors Title Agency, www.counsellorstitle.net, founded in 1996, is one of New Jersey's most respected title agencies, serving all 21 New Jersey counties with title insurance, clearing title, escrow, tidelands searches, and closing and settlement services for commercial or industrial properties, waterfront properties and marinas, condominiums, townhouses or residential single family homes. Counsellors Title also features its own Attorney Settlement Assistance Program™ [ASAP], which is an individual resource customized to fit the needs specifically of real estate attorneys, including, Documentation, Preparation, Disbursement of Funds, Attendance at Closing, HUD Preparation or Post-Closing Matters.
LET'S CONNECT ONLINE!