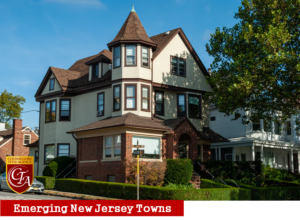 EMERGING NEW JERSEY TOWNS
Some towns and regions in New Jersey are receiving some new buyers and consideration for first-time buyers and others seeking a post-pandemic property. The inventory shortages will continue to impact home prices moving forward. Builders are still being hampered by high material costs and labor shortages, so it will most likely take years to replenish inventory to levels considered to be normal. Even with the normalization of the Work From Home economy, buyers are seeking commutes that don't gouge into family and personal time. Buyers are also looking for particular lifestyles that afford to them community-centric regions, walkable downtowns and home prices that are affordable. [And unique to New Jersey, some lower ranges of property taxes.]
Bayonne, NJ – Hudson County
A recent property was sold for $311,000. Considering the average home price in the town is over $500,000, this two-family was a real bargain. The 2 units included a 2-bedroom and a 3-bedrooms that was located close to schools, shopping and restaurants. It even had a fenced-in backyard. The average single-family price has been in the $400K range, with plenty of redevelopment projects in the pipeline. One of the big attractions is its transit system, which has 4 stops on NJ Transit's Light Rail. Plus there is always the New Jersey Turnpike for easy access.
Hackensack, NJ – Bergen County
Homes in Hackensack recently ranged from a low of $59,000 to $1.1 million. Single-family homes in Hackensack typically come in under the median price. The market is considered to be competitive with many homes getting multiple offers. According to Redfin, the average home sells for 1% above asking price and takes about 80 days before going under contract with the average sale price of $375,000.
Oakland, NJ – Bergen County
The median list price for a single-family home in August was $559,000, which translated into a 14.4% increase over properties sold in August 2020. Homes range in price from $119,500 to $1.2 million, with the median sold price coming in at a pricey $740,000. According to realtor.com, Oakland, NJ is in a buyer's market, reflecting that there is a greater supply of available homes for sale than there are buyers, with the median days on market coming in at 91 days. (When was the last time you heard that being the case?)
If you have any questions about this information or title insurance, please contact Ralph Aponte: 732.914.1400.
Counsellors Title Agency, www.counsellorstitle.net, founded in 1996, is one of New Jersey's most respected title agencies, serving all 21 New Jersey counties with title insurance, clearing title, escrow, tidelands searches, and closing and settlement services for commercial or industrial properties, waterfront properties and marinas, condominiums, townhouses or residential single family homes. Counsellors Title also features its own Attorney Settlement Assistance Program™ [ASAP], which is an individual resource customized to fit the needs specifically of real estate attorneys, including, Documentation, Preparation, Disbursement of Funds, Attendance at Closing, HUD Preparation or Post-Closing Matters.
LET'S CONNECT ONLINE!