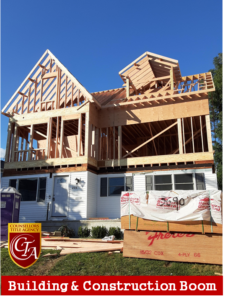 Housing Demand
Domestic housing demand has remained consistently strong since April 2020, with only shortages in building supplies and skilled labor and buildable plots holding it back.
These constrictions to some degree have held some projects back, but in general the demand is one of the strongest in the last quarter century, all the while housing prices hit month-over-month highs.
To a degree, some of this demand was expected by the entry of many first-time buyers into the market as reflected by the increase in new household formation.
From the years 2019 to 2021, there were an additional 2.1 million households formed, which contributed to a total of 123 million new households formed since 2012.  For the 18-month period starting in 2020 and ending in June 2021, there were 1.55 million single-family homes started, which represented 7.47 million homes started since 2012 – representing over 26% of all homes being built since 2012 happening in an 18-month stretch.
The higher family formation figures and housing shortages is seen to have an impact on homeowner vacancy rates as the number of vacant houses continues to erode. The homeowner vacancy rates fell from 2% in 2012 to 0.9% in 2021. 
In both 2018 and 2019, 43% of new home sales were priced below $300,000.  However, in 2020, this figure dropped to 39% and through the first half of 2021, only about 32% of new homes have been sold for less than $300,000. 
More than half of all housing starts in the first six months of 2021 were in the South.
The number of building permits reflects that a higher percentage of those are in the booming southern cities that boast higher quality of life, larger homes, healthy economies and affordability. These are the cities where these permits are being issued:
Austin (TX)

Nashville (TN)

Raleigh (NC)

Phoenix (AZ)

Denver (CO)

Tampa (FL)
If you have any questions about this information or title insurance, please contact Ralph Aponte: 732.914.1400.
Counsellors Title Agency, www.counsellorstitle.net, founded in 1996, is one of New Jersey's most respected title agencies, serving all 21 New Jersey counties with title insurance, clearing title, escrow, tidelands searches, and closing and settlement services for commercial or industrial properties, waterfront properties and marinas, condominiums, townhouses or residential single family homes. Counsellors Title also features its own Attorney Settlement Assistance Program™ [ASAP], which is an individual resource customized to fit the needs specifically of real estate attorneys, including, Documentation, Preparation, Disbursement of Funds, Attendance at Closing, HUD Preparation or Post-Closing Matters.
LET'S CONNECT ONLINE!