Builder Confidence Remains High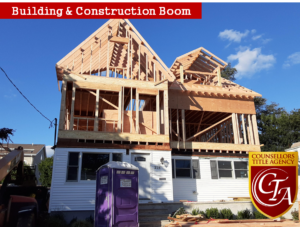 Builder sentiment continues to remain relatively strong. Since 2010, the sentiment of builders in all regions has gained ground, reflecting an environment of expansion despite the disruption of the effects of the pandemic, which drove the Housing Market Index (HMI) down to 30, in April 2020 but bouncing back to 90 by November 2020. The HMI for the first 6 months of 2021 came to an average of 83, in comparison with an HMI of 66 back in 2019, and 70 in 2020. These levels leave us to believe that the sentiment of the construction industry is incredibly strong overall. The regions that stand out strongest are those in the South and West, specifically Texas. Even though the August HMI fell to 75 points from 80 in July, activity remains robust.
If you have any questions about this information or title insurance, please contact Ralph Aponte: 732.914.1400.
Counsellors Title Agency, www.counsellorstitle.net, founded in 1996, is one of New Jersey's most respected title agencies, serving all 21 New Jersey counties with title insurance, clearing title, escrow, tidelands searches, and closing and settlement services for commercial or industrial properties, waterfront properties and marinas, condominiums, townhouses or residential single family homes. Counsellors Title also features its own Attorney Settlement Assistance Program™ [ASAP], which is an individual resource customized to fit the needs specifically of real estate attorneys, including, Documentation, Preparation, Disbursement of Funds, Attendance at Closing, HUD Preparation or Post-Closing Matters.
LET'S CONNECT ONLINE!