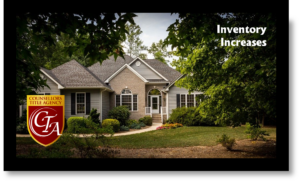 For the very first time since February 2020, new listings are beginning to replenish inventory on a national basis.
This is also the case in New Jersey. Up until February 2021, new listings were below prior year metrics.
Finally inventory on a national basis has seen a marginal increase in June 2021 from May 2021, according to a recent published report.
Buyer demand, along with record-low mortgage rates and the stampede of pandemic buyers fleeing urban meccas, have depleted much of the abundance of housing inventory over the last two years. Finally. inventory climbed 1.9% in June from May.
The overall inventory picture is still pretty bleak for today's home buyer with an average two-months supply.
Most likely, as the economy continues to roar back in most segments, people who were considering moving pre-pandemic, are taking the leap by putting their homes up for sale.
Still, buyers and sellers are finding that prices are still at record highs and inventory is still uncomfortably short.
Unfortunately for the buyers, prices continue to track the ever-higher upward trajectory with median home prices hitting another new record nationally of $336,000. The only good news is that the mortgage rates are not tracking with home prices. 
Also, the ferocity of bidding wars shows a little let-up, with ONLY 65% of written offers submitted being above listed price, as compared with April's torrid 72.1% of submitted written offers above the listed price. But competition is still a major hurdle buyers are having to deal with, as reported by a recent Fox Business article stating that there are still super-hot markets out there. "The markets facing the most competition are Sarasota, Florida, and Charleston, South Carolina, with bidding-war rates notching 87% and 82.9%, respectively…and Reno, Nevada, with 80% of offers written [above listed price and] Charlotte, North Carolina, and Kansas City, Missouri, rounded out the top five markets, with 78.9% and 78.6% of offers facing competition, respectively."
If you have any questions about this information or title insurance, please contact Ralph Aponte: 732.914.1400.
Counsellors Title Agency, www.counsellorstitle.net, founded in 1996, is one of New Jersey's most respected title agencies, serving all 21 New Jersey counties with title insurance, clearing title, escrow, tidelands searches, and closing and settlement services for commercial or industrial properties, waterfront properties and marinas, condominiums, townhouses or residential single family homes. Counsellors Title also features its own Attorney Settlement Assistance Program™ [ASAP], which is an individual resource customized to fit the needs specifically of real estate attorneys, including, Documentation, Preparation, Disbursement of Funds, Attendance at Closing, HUD Preparation or Post-Closing Matters.