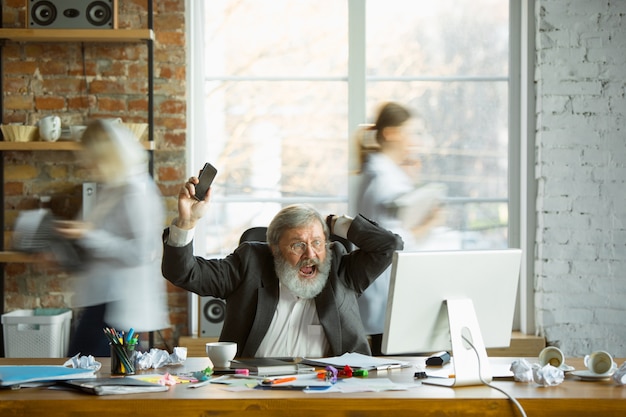 Has the distraction of this present economic climate caused you to be less productive, exhausted and without a lot of results to show for your efforts?
Good time management requires good distraction management. Behind every busy person is a distracted person. Busy is a bad habit and multitasking is the new "ism."
Chances are, you are not alone in this emotional and dysfunctional cul-de-sac. Despite the fact that it is called "smart technology," connectivity has distracted us into swamps of useless notifications and information. Distraction and unvetted information will wear you down if you aren't intentionally and purposefully managing it.
Distraction has become the new bad habit that we all must confront and conquer if we want to be productive and emotionally healthy business professionals.
The other negative consequence of distraction is burnout. Burnout is that emotional condition that leaves us feeling less productive and without the necessary energy to get things done that need to be done. In some cases, we may misdiagnose burnout to be procrastination, but procrastination is usually the byproduct of multitasking and distraction. If you do a forensic of yourself at the end of a day, and find yourself exhausted and overwhelmed, it's a good chance you've become a distraction addict.
No matter how much we read about systemic problems and inefficiencies associated with multitasking, most of us pride ourselves on being master multitaskers. In this case, science is correct, and multitasking leads to lower functionality and productivity.
In this digital economy, we must all become disciplined in managing our daily stream of surreptitious interruptions, and be discerning to respond to only actual needs with relevant answers and solutions.
In order to detox from the distraction addiction, there has to be the commitment and the emotional blueprint to focus on the true jobs and tasks that will result in revenue-generating outcomes.
Remember, the objective is not to take in as much information as possible, but rather curate the information flow that is coming through your computer, laptop or smartphone. Social media becomes only the fog of war unless it translates into desirable social outcomes of intentionality and purpose behind each like, comment and post.
Momentum or flow calls for discipline; it doesn't happen accidentally or magically. It is the byproduct of these five elements, which take:
■ Time
■ A plan
■ Focus
■ Tools/resources
■ A clear working space
If you have any questions about this information or title insurance, please contact Ralph Aponte: 732.914.1400.
Counsellors Title Agency, www.counsellorstitle.net, founded in 1996, is one of New Jersey's most respected title agencies, serving all 21 New Jersey counties with title insurance, clearing title, escrow, tidelands searches, and closing and settlement services for commercial or industrial properties, waterfront properties and marinas, condominiums, townhouses or residential single family homes. Counsellors Title also features its own Attorney Settlement Assistance Program™ [ASAP], which is an individual resource customized to fit the needs specifically of real estate attorneys, including, Documentation, Preparation, Disbursement of Funds, Attendance at Closing, HUD Preparation or Post-Closing Matters.
LET'S CONNECT ONLINE!