For the first time in recent memory the supply of homes for sale has fallen below 1 million.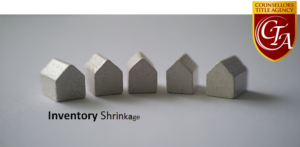 National Association of Realtors recorded December monthly homes for sale fell by 39.6% year-over-year to 700,000 for the first time.
Despite drop in inventory, the inventory of newly listed properties declined by just .8% month-over-month.
This is clearly having an impact upon the real estate market overall liquidity, translating into a loss of nearly 450,000 homes for sale nationally in December.
New listings in the Northeast increased by 15% year-over-year.
Also, days on market nationally fell by 13 days to an average 66 days on market. Mortgage rates are contributing to the crisis-level of properties available.
In addition, housing and construction are having their own shortages as it relates to skilled labor and lumber.
According to the report issued by the National Association of Realtors, the median national home listing price increased by 13.4% year-over-year to $340,000 in December. This translated into an improvement of 12.7% from November's median national home price listing.
If you have any questions about this information or title insurance, please contact Ralph Aponte: 732.914.1400.
Counsellors Title Agency, www.counsellorstitle.net, founded in 1996, is one of New Jersey's most respected title agencies, serving all 21 New Jersey counties with title insurance, clearing title, escrow, tidelands searches, and closing and settlement services for commercial or industrial properties, waterfront properties and marinas, condominiums, townhouses or residential single family homes. Counsellors Title also features its own Attorney Settlement Assistance Program™ [ASAP], which is an individual resource customized to fit the needs specifically of real estate attorneys, including, Documentation, Preparation, Disbursement of Funds, Attendance at Closing, HUD Preparation or Post-Closing Matters.