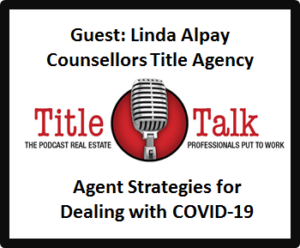 The Corona Virus and 9 Strategies Every Agent Can Use! This week's guest features Linda Alpay, a Business Development Specialist and Licensed Title Producer with Counsellors Title Agency, with 30 years of experience in the real estate industry.
There's a lot of fear out there and a lot of questions that no one seems to be answering. The one thing I know for a fact: fear and irrationality will kill you and your business. Unless we approach it with a plan and poise, we are risking not only our business but even our health.
Click here to listen:
Protocols 
Have an abundance of hand sanitizers made available not only in the office, but in the car and also on-site at the listed property.
Make the effort to sanitize all hard surfaces before and after the viewing.
Make use of single-use pens so no one is sharing the same pen when signing in.
Strategies 
Leverage video services. Many agents are using them already.
If you have a smart phone, provide the option of having a buyer view the home through FaceTime.
Have the buyer prepare beforehand a list of purchase requisites that they're looking for in a house. This way when the agent walks through the house with the video camera or video phone, they are able to hone in on those features that the buyer is most interested in.
Offer or suggest a

Zoom video conference

with the owner if the buyers are interested in having such a discussion.
Make sure the still photography provides in detail an accurate representation of the condition and the quality of the house.
Have the selling agent and the buyer broker sign up to the CDC email alert (click here) for updates on the coronavirus.
Click here for information from the CDC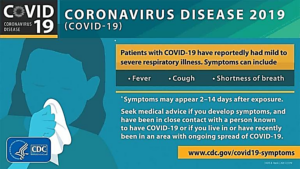 This podcast as a public service, but it is neither a medical or legal interpretation nor a statement. Reference to any specific product or entity does not constitute an endorsement or recommendation. The views expressed by guests are their own and their appearance on the program does not imply an endorsement of them or any entity they represent. Please consult any medical professional when dealing with any health situation.