Overall permits surged to a 13-year high to a seasonally adjusted annual rate of 1.57 million units according to a report from the U.S. Housing and Urban Development and Commerce Department.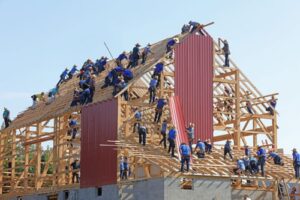 During this housing recovery, single-family housing starts have surpassed one million for the second consecutive month and multifamily production has been running above the 500,000 mark for the same period.
This clearly was good news for the industry, as overall permits surged to a 13-year high.
Single-family starts decreased 5.9% to a 1.01 million seasonally adjusted annual rate. The multifamily sector, which includes apartment buildings and condos, increased by 0.7% to a 557,000 unit pace.
Moving Forward
NAHB's Assistant Vice President of Forecasting and Analysis Nanayakkara-Skillington stated, "While the solid pace for residential construction continues, favorable weather conditions may have accelerated production in the winter months. At the same time, the growth in permits is a harbinger that that market will continue to move forward in the coming months, even as builders grapple with supply-side issues like excessive regulations, labor shortages and rising material costs."
January results by region (combined single- and multifamily housing) showed production:
Increased 31.9% in the Northeast
Increased 1.2% in the West
Fell 25.9% in the Midwest
Fell 5.4% in the South
Permits
Overall permits increased 9.2% to 1.55 million
Single-family permits increased 6.4% to 987,000
Multifamily permits increased 14.6% to 564,000
Permits by Region
Northeast permits increased 34.6%
Midwest increased 8.2%
South increased 8.0%
West increased 3.1%