The Federal Reserve reported that outstanding U.S. mortgage debt increased 1.2% to $15.8 trillion in the third quarter of 2019 from Q2 2019.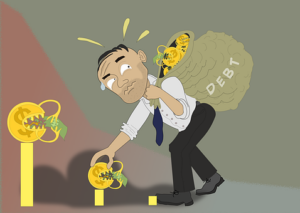 This increase represents the largest quarter-to-quarter gain in almost two years, much of which is due to the robust demand for housing, low interest rates and the increase in home prices. Still, in the context of the overall value of real estate, U.S. owner-occupied home values also increased to a new record $29.2 trillion in the third quarter, 21% higher than the peak reached in 2006.

Debt Per Category
Home mortgages – $11.1 trillion
Commercial mortgages – $3 trillion
Multifamily mortgages – $1.6 trillion
Farm mortgages – $254.1 billion
Low mortgage interest rates are giving Millennials a chance to get into the real estate market as buyers are able to qualify for higher-balance mortgages and bid more for properties.
Some housing experts are projecting that mortgage rates will set new lows in 2020, thus fueling a market that is appreciating. According to Fannie Mae, the average fixed rate probably will be 3.6% in 2020, which would be the lowest annual average ever recorded in Freddie Mac records going back to 1973.
Comparatively speaking, for the last two years, that average mortgage rate has come down: with 3.9% in 2019 and 4.5% in 2018, according to Fannie Mae. The current record rate was set in 2016 when the annual average fell to 3.65%.
If you have any questions about this information or title insurance, please contact Ralph Aponte: 732.914.1400.
Counsellors Title Agency, www.counsellorstitle.net, founded in 1996, is one of New Jersey's most respected title agencies, serving all 21 New Jersey counties with title insurance, clearing title, escrow, tidelands searches, and closing and settlement services for commercial or industrial properties, waterfront properties and marinas, condominiums, townhouses or residential single family homes. Counsellors Title also features its own Attorney Settlement Assistance Program™ [ASAP], which is an individual resource customized to fit the needs specifically of real estate attorneys, including, Documentation, Preparation, Disbursement of Funds, Attendance at Closing, HUD Preparation or Post-Closing Matters.