Moody's Home Building Sentiment Flattens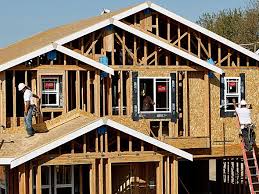 Moody's announced that it had lowered its outlook for home building for the next 12 months. Moody's indicated that its projections went from positive to just stable, indicating that trends will be expected to slow down over the next year. The slowdown is not believed to move into negative territory.
Moody's sentiment remains in the positive territory of 6-8% for 2019, but it is not believed to be moving into the double-digit territory it has been in over the past 12 months or so.
The Moody's Housing Market Index includes, which includes estimates for such builders as D.R. Horton and Lennar Corporation, projects that revenues will exceed expectations, while revenues for Hovnanian will be negatively impacted by the slowing trend.
The U.S. Census Bureau also indicated that construction spending maintained stable levels through September 2018.
Overall, the expectation for construction in 2019 is expected to be a healthy 6-8% due to the continued positive consumer confidence levels, strong employment figures, low unemployment, continued and sustained buyer demand, low cancellation of new housing and strong backlogs.
In addition, inventory remains low, with average monthly inventory of homes for sale in the 3-5 month range, which is lower than generally accepted levels of 6 months. The low inventory factor has been impacting the number of sales for over 18 months now, and is considered to no longer reflect the buyer demand moving forward.
If you have any questions about this information or title insurance, please contact Ralph Aponte: 732.914.1400.
Counsellors Title Agency, www.counsellorstitle.net, founded in 1996, is one of New Jersey's most respected title agencies, serving all 21 New Jersey counties with title insurance, clearing title, escrow, tidelands searches, and closing and settlement services for commercial or industrial properties, waterfront properties and marinas, condominiums, townhouses or residential single family homes. Counsellors Title also features its own Attorney Settlement Assistance Program™ [ASAP], which is an individual resource customized to fit the needs specifically of real estate attorneys, including, Documentation, Preparation, Disbursement of Funds, Attendance at Closing, HUD Preparation or Post-Closing Matters.