The developers and owners see the mix of shopping, eating and dining, as well as entertainment, coming into play. There are also plans to provide medical office space.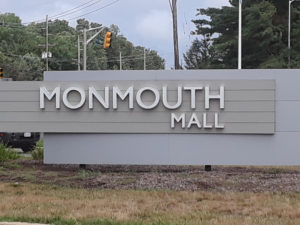 The anchor tenants, JCPenney, Lord & Taylor and Macy's, will not be technically impacted by the renovations and changes of the current developers since they own their buildings. This could actually work in their favor, considering that the developers expect to build out 700 apartments which logically create a built-in customer base. According to a report, there was a small group of objectives from the town that potentially could appeal the board's approval.
Kushner Companies has partnered with the New York-based real estate group, Brookfield Properties to develop the new concept from the old-fashioned mall design into something that they believed to be a walkable community.
The Monmouth Mall
The Monmouth Mall is currently the fourth largest shopping mall in New Jersey. It contains over 150 retail shops. It opened on March 1st, 1960 upon what was originally a farm owned by the Valentino family.
The original anchor stores of the mall included Bamberger's, Montgomery Ward and Alexander's. It even included, for a time, two levels of Abraham & Strauss as well.
In 1987 the mall was renovated to bring new lighting, new flooring and new classic rail design. Other anchor stores also included Caldor and Stern's.
It was purchased (50%) by Kushner Companies in 2015 for $38 million dollars.