Ask for a review through personal email—a simple email with a clear 'ask' based upon your history with the clients.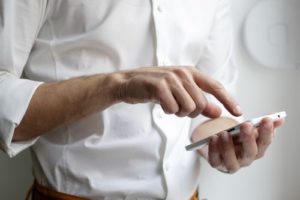 Here is a customer review email template you can use:
Hi [FIRST NAME],
Hope you're doing well.
I'm writing to ask if you'd be willing to leave a quick online review for the recent services from us because I'm working on improving our online marketing. It should only take a moment if you click here [and here is where you insert the link to your Google listing.]
It would really help me if you mentioned such terms as: title insurance, closing services, New Jersey, county involved, glitch-free closing.
Thanks, and let me know if you have questions,
[YOUR NAME]
Be ready to give them some sample reviews that they can consider using to include key words.
In our case it would be title insurance, closing, experienced, New Jersey, counties (Monmouth & Ocean, problem solver).
Times to Request a Review
When you solve a problem that the customer REALLY appreciates, explain how you view your job as a problem solver, and would they mind dropping that into a Google review for you so that other people might benefit.
Being Prepared to be Reviewed
Have some quick reviews ready like: "not all 'agents' are alike. Quick responsive. Knowledgeable."
What to say before they write a review: "Reviews are an integral part of my business. I work diligently to make every sale a positive experience. If you saw my reviews, they are intended to help individuals make an informed decision when hiring Counsellors. For me, the end of a transaction isn't over until I satisfy a customer completely, along with that proof of service."
If you have any questions about this information or title insurance, please contact Ralph Aponte: 732.914.1400.
Counsellors Title Agency, www.counsellorstitle.net, founded in 1996, is one of New Jersey's most respected title agencies, serving all 21 New Jersey counties with title insurance, clearing title, escrow, tidelands searches, and closing and settlement services for commercial or industrial properties, waterfront properties and marinas, condominiums, townhouses or residential single family homes. Counsellors Title also features its own Attorney Settlement Assistance Program™ [ASAP], which is an individual resource customized to fit the needs specifically of real estate attorneys, including, Documentation, Preparation, Disbursement of Funds, Attendance at Closing, HUD Preparation or Post-Closing Matters.